27 September, 2017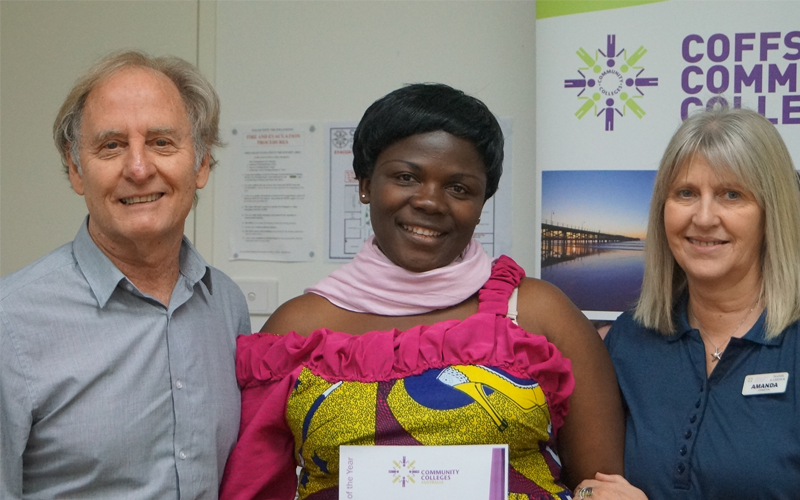 This year has been an exciting year with the success of one of our students. Jolie Kaja attended the Coffs Coast Community College in 2016 and 2017 and completed the Certificate III in Individual Support. Jolie was the winner of the award and has received a great deal of media attention.
The Student of the Year shortlist included eight students from New South Wales, Victoria and Queensland, who have studied in metropolitan, regional and rural community colleges.The official Awards announcement took place at the CCA Conference "Gala Dinner", held on Wednesday 26 July 2017 at The Windsor Hotel, Melbourne. Gordon Amann from Coffs Coast Community College received the Award on behalf of Jolie who was unable to attend due to her work and family commitments.
Jolie was originally from the Congo. Jolie fled Congo due to the wars and terror that was been perpetrated in her country and lived in a Zambian refugee camp for seven years before arriving in Australia. Jolie is a single mother with four children who could speak Swahili, French and eight other African languages – but not English – when she first arrived. After earning a Certificate III in English, she decided that aged care was important after seeing the suffering of her people in Congo and Zambia.
As part of her Certificate III Individual Support training at the Coffs Coast Community College, Jole completed her work placement at St Joseph's Aged Care. She was so well loved and worked extremely hard in her work placement that she was offered a position with St
Joseph's Aged Care straight away. Currently she is still at St Joseph's Aged Care in Coffs Harbour as an Assistant in Nursing (AIN).
This will not be the end of her journey as she plans to continue her studies and complete the Certificate IV in Individual Support and she has an keen interest in studying the Certificate IV in Disabilities.
Further celebrations were held at the Coffs Coast Community College were she personally received her award from the The NSW Deputy Premier, John Barilaro. SBS Television attended the award to document her achievement. See the SBS story.
We congratulate Jolie on her success and future career.